The 2021 Subaru Love Promise Community Commitment Award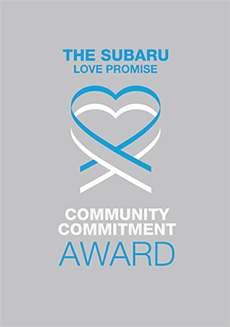 We've been nationally recognized for our dedication to our community and the Subaru Love Promise.
We're honored to receive the 2021 Subaru Love Promise Community Commitment Award. This award nationally recognizes Subaru retailers who are making the world a better place while demonstrating an outstanding commitment to supporting passions and causes in local communities. These efforts are focused in important areas such as the environment, community, health, education, and pets.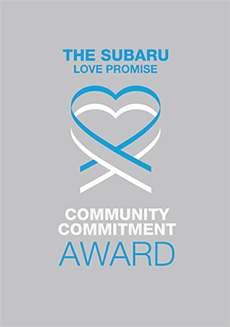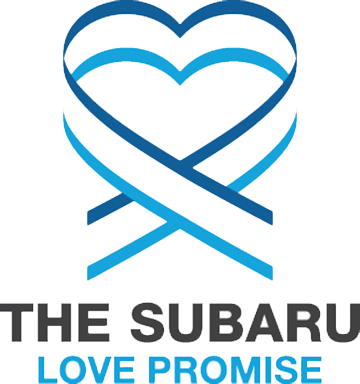 What is the Subaru Love Promise?
Subaru and our retailers believe in making the world a better place and the Subaru Love Promise is our vision of respecting all people. This is our commitment to show love and respect to our customers and to work to make a positive impact in the world.
How is Ocean Subaru of Fullerton dedicated locally to the Love Promise?
Our Love Promise can be seen in various partnerships with local charities and non-profits. We're grateful for the opportunity, not only to be a part of our community, but to serve it as well.
Love Promise Stories from Ocean Subaru of Fullerton
Subaru and Ocean Subaru of Fullerton believe in making a positive impact on the communities in which we live and work. We uphold that belief through our Love Promise Community Commitment. Every month, we select inspiring stories from customers and partners from around our area who strive to support our collective commitment and feature them here
WCOF supports YMCA Active Older Adult Program - Mary T
The Woman's Club of Fullerton presents a check for $1,000 to the YMCA of Orange County, California. The Fullerton YMCA serves over 3,000 older adults. Funds donated were be used to purchase equipment such as dumbbells, chairs, bands, balls, and aqua dumbbells for their Active Older Adults. The equipment will serve the purpose of keeping their senior clients healthy. Throughout the pandemic, the YMCA of Orange County has remained open, serving Orange County communities by providing:-13,118 members the chance to keep active and stay healthy through our outdoor fitness or virtual classes.-Personal phone calls to 5,400 senior members by staff to remind them that they are not alone, and they were missed, Rikki Bains, Executive Director at the Fullerton Family & Yorba Linda/Placentia YMCA, wrote: "Thank you for the community funding award. As we all know, 2020 proved to be a very trying year for the entire nation, and here at the YMCA we are looking forward to a new year filled with HOPE. The YMCA board, staff, members, and participants feel this new sense of hope because of donors like you that continue to give generously, supporting others and making their local community a better place, even through this unprecedented time. Momentum may not always be on our side, but when the stakes are high and the issues are too important, we must move forward. By rallying together, we have the strength to survive and even thrive during difficult times. While this organization has taken a substantial financial loss, we have gained much more. We are more confident than ever that the YMCA of Orange County is well prepared for whatever the future brings. Thank you Ocean Subaru of Fullerton and Woman's Club of Fullerton for your generosity and support! Thank you for giving us hope and allowing us to provide hope to others."
---
WCOF supports HIS OC Homeshare Program - Joanie R
The Woman's Club of Fullerton, along with the partnership from Ocean Subaru of Fullerton, supported HIS (Homeless Intervention Services) OC for their Homeshare Program, which helps students overcome homelessness and achieve independence. They provide care by meeting the unique needs of the homeless and impoverished individuals, students, and families. HomeShare OC screens and matches eligible college students and senior homeowners. The students attend Cal State Fullerton and Fullerton College, and are people who have lost housing and are lacking funds. Seniors living in North Orange County will benefit from help in the home, financial stability, and companionship. This brings together an older homeowner who will lives in the comfort of their home with a compatible college student who would lend a hand in return for affordable rent. This program helps college students find affordable housing in our community while assisting seniors to stay in their own homes, which benefits both the students and the seniors. Both populations have been underserved and have trouble with food security and affordable housing. HIS-OC is addressing this issue by creating the next generation of roommates. The goal for 2021 is to match 12 students with 12 seniors. Carrie Buck, Executive Director of HIS OC wrote: "Thank you so much for your generous donation. You are truly making a difference in the lives of homeless men, women, and children in Orange County. Your commitment to fighting against homelessness, hunger, addiction, and injustice inspires me, and I marvel at the selflessness and sacrificial giving that I see every single day in the people who make what we do possible. Because of your generosity, we were able to move children and young adults off the streets and into a warm, safe bed. When homeless families and individuals come to Homeless Intervention Services of Orange County, they get more than hot meals and a place to sleep. They also receive compassion, respect, and hope for a second chance. "Thank you, Ocean Subaru, for partnering with the Woman's Club of Fullerton to give back to this wonderful organization.
---
Todd Anglin's Home for Children - Joanie R
Ocean Subaru of Fullerton, along with The Woman's Club of Fullerton, donated funds to the Todd Anglin's Home for Children for the purpose of feeding homeless school children. The partnership will make a huge difference in the lives of precious children experiencing homelessness. The Todd Anglin Home for Children was founded in 2005. Their mission is to care for poverty-stricken and homeless children worldwide by improving the quality of their lives, by providing them with resources and opportunities to become valuable members of society, and to present them with the likelihood of a better and brighter future. The Organization operates entirely with volunteers and provides meals to about 200 homeless elementary school children in Orange County, California. Due to the Pandemic, the food is dropped off at the schools on days when the staff is available. Arrangements are made with the parents to come and pick up the food. Typical items that are provided include rice, beans, tortillas, tuna, tomato sauce, and other nonperishable types of canned food. The cost of food averages $2,150 monthly. Elementary schools in the cities of Anaheim and Orange will benefit from this donation.
---
WCOF supports Spoofdawg to the Rescue - Joanie R
The Woman's Club of Fullerton is extremely grateful to the employees of Ocean Subaru in Fullerton, CA. Our partnership with Ocean Subaru has allowed us to help pets and animals in our community. After being chosen as Ocean Subaru's Hometown Charity and receiving funds, our goal was to help as many animals as we could. With their help, we have been able to do just that by choosing Spoofdawg to the Rescue as a grant recipient, which is so rewarding for all our members. According to seecalifornia.com, nearly 40% of California households own at least one dog, and pet parents are convinced it's good for their own health. The statistics support the notion that dogs can help lower blood pressure, decrease incidences of heart attack, and reduce depression in humans. WCOF members and employees of Ocean Subaru of Fullerton are passionate about helping animals, and presented a donation to Spoofdawg to the Rescue to help cover the cost of spay/neuter to clients in and around the Fullerton area who can't afford the surgery. Items such as blankets, toys, dog food (canned or dry), dog beds, leashes, collars, etc. are also donated. Members from WCOF visited with Founder Darcie Copeland and Mascot Bubsy (cutest dog EVER!!) at their warehouse location in Santa Ana, California. Bubsy was rescued from an animal shelter minutes before he was going to be euthanized for being labeled a "dangerous dog", but upon meeting him, we quickly learned that it was far from the truth, as he just lay down and wanted us to rub his belly. This incredible story is an example of why Spoofdawg to the Rescue was formed. Spoofdawg to the Rescue is a 501c3 non-profit charity that provides food and supplies to animal rescues in need. Their efforts help alleviate animal non-profit financial burdens, thus allowing time to better assist the thousands of abandoned and abused animals they rescue and care for, and to help cover the cost of spay/neuter to clients in and around the Fullerton, CA area. Spoofdawg to the Rescue also offers emergency aid by delivering animal supplies for displaced pets during California's wildfires and earthquakes. During the Fall of 2020, California had its worst fire season on record, where many family pets and animals were displaced and/or needed help. Spoofdawg to the Rescue literally came to their rescue! What a beautiful thing to know that funds from Ocean Subaru of Fullerton helped furry family members in and around Fullerton! Thank you, Ocean Subaru, for giving The Woman's Club of Fullerton the opportunity to help this wonderful organization. Your warmth, kindness and passion for helping pets and animals does not go unnoticed!
---
Still Helping ~ Always Caring - Helen C
Thank you! The Woman's Club of Fullerton/Ocean Subaru for 350 headsets for Commonwealth Elementary School. Together we presented the headsets for the students in class and for distance learning. This continues to help us fill our program "Operation School Bell" which funds school clothing and supplies for children and high school youths in need at five local school districts. The principal and social services assistant were very excited and thankful to receive the headsets during this difficult time. This brings Holiday Joy with volunteers working together transforming the lives of children in our community.
---
One eyed Rascal - Angel H
Little Rascal and his new owner Kelly who is super excited to have adopted him! He was abandoned by his owners once he was attacked and injured after a cat fight.
---
Hand in Hand working to help our community - Susan S
Assistance League of Fullerton and the Women's Club of Fullerton are helping those in need. Assistance League of Fullerton® is an 80-year old non-profit organization serving the communities of Fullerton, Brea, Buena Park, La Habra, and Placentia. Our mission: Assistance League® volunteers transforming the lives of children and adults through community programs. We would like to thank the Women's Club of Fullerton (WCOF) and Ocean Subaru of Fullerton for choosing us and supporting our program Operation New Start. Operation New Start provides clothing and household items for women and children. One of the organizations we partner with for Operation New Start is the Women's Transitional Living Center and since August of this year we have served 155 of their clients. During the COVID 19 pandemic the needs have greatly increased. We deeply appreciate the Women's Club of Fullerton purchase of domestic household items such as, dishes, towels, mops/brooms, bedding as well as new clothes for the children. Also included was a generous donation for further purchases of these items. The primary source of income to support our 8 philanthropic programs comes from Thrift Shop. Due to COVID-19 19 we had to close our Thrift Shop for 6 months, so our funds have been greatly reduced. We hope to continue this partnership with Ocean Subaru and The Woman's Club of Fullerton as we continue to serve those in need in our local communities.
---
OC Food Bank - MANUEL V
Ocean Subaru of Fullerton collectively as a team volunteered to pack Food boxes to support 300 nonprofit organizations supported by the Community Action Partners of Garden Grove. On a daily basis, volunteers work side-by-side to the beat of music packing food boxes that are distributed to low-income senior citizens and families in Orange County and surrounding areas. Ocean Subaru recruited a few employees to volunteer for a few hours to help support the community. Their efforts went towards providing food to hundreds of senior citizens as well as under privileged families in the local area. A definite impact made by this retailer.
---
Helping Children in Fullerton during the Holidays - Joanie R
The Woman's Club of Fullerton (WCOF) is extremely grateful to be chosen by Ocean Subaru of Fullerton, California as their Hometown Charity. Our clubs mission is to help children in our Fullerton community, especially during the holidays. With the partnership with Ocean Subaru it was extremely rewarding to help so many, and we went way beyond our goal this year. We are especially thankful to make a difference in those healing from abuse, neglect, homelessness, and in foster care this holiday season. We partnered with some of the local organizations that helped children in our community in need, and went to work to make their holiday very special. Ocean Subaru you put a smile in the lives of so many, thank you for giving us this opportunity to be of service. Supporting Crittenton Services for Children and Families of Southern California (CSCF) a non-profit social services agency whose mission is to heal the wounds of abuse and neglect; strengthen families; and help troubled adolescents reach their full potential has their holiday gift drive called The Angel Tree program. The Angel Tree program serves as an opportunity for everyone to connect with Crittenton's clients in a meaningful way, and to help them continue their mission. Children and young adults who are staying in Crittenton's Foster Care Program are asked what they would like from Santa, and then their wishes are put onto holiday wish cards. Members of The Woman's Club of Fullerton choose children's wishes, go shopping, and with the incredible donation from Ocean Subaru, we were able to purchase over 15 pairs of new Vans sneakers, all requested by the teens in Crittenton's Foster Care program as well as additional funds for the younger children's wishes from the Angel Tree. The gifts are then wrapped and delivered to Crittenton for their holiday party which takes place closer to Christmas. Without Ocean Subaru's support this donation would not have been feasible. The new in-kind donations are collected from October to November. "The gift you have given is really not something that can be unwrapped and held in the hand. The pretty paper on the outside cannot hold the brilliance of the real gift that you have given a young person in need," said Pat Williams, Angel Tree Program Coordinator and Crittenton Volunteer, "It is essential in our lives that we matter to someone. Thank you for showing our youth that they do. It is through the generosity of those like Ocean Subaru and The Woman's Club of Fullerton who contribute to the annual Angel Tree Program that allows Crittenton to meet the needs of our youth during the holiday season. Another organization that helps young adults is Monkey Business Café a fully operational restaurant and catering enterprise in Fullerton that serves as a work experience/job training site for emancipating foster youth and other at-risk young people. The donation of gift cards to Best Buy, GameStop, restaurants, and a variety of board games were given to the young men at the holidays. The young men were so humbled by the generosity and looking forward to shopping. Fullerton Fire Department, "Fired up for Giving" Holiday Toy Drive is an annual program for low-income families and those experiencing homelessness. Many of the families and children faced with these circumstances are just trying to deal with day to day necessities, not buying holiday gifts. It's events like this that put smiles on children's faces and eases the burdens of the parents. With Ocean Subaru's support and partnership, a donation of six bikes, helmets, scooters, art kits & remote-control cars were purchased. The items were then delivered by WCOF members to the Fullerton Fire Department, just in time for the holidays. What a rewarding experience knowing all the children would have presents to open during the holidays!!
---