The 2022 Subaru Love Promise Community Commitment Award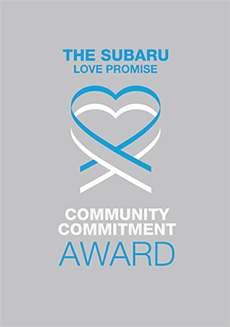 We've been nationally recognized for our dedication to our community and the Subaru Love Promise.
We're honored to receive the 2022 Subaru Love Promise Community Commitment Award. This award nationally recognizes Subaru retailers who are making the world a better place while demonstrating an outstanding commitment to supporting passions and causes in local communities. These efforts are focused in important areas such as the environment, community, health, education, and pets.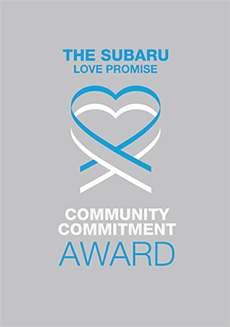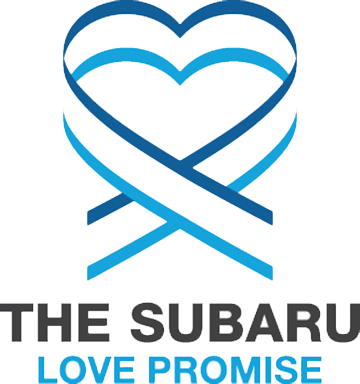 What is the Subaru Love Promise?
Subaru and our retailers believe in making the world a better place and the Subaru Love Promise is our vision of respecting all people. This is our commitment to show love and respect to our customers and to work to make a positive impact in the world.
How is Ocean Subaru of Fullerton dedicated locally to the Love Promise?
Our Love Promise can be seen in various partnerships with local charities and non-profits. We're grateful for the opportunity, not only to be a part of our community, but to serve it as well.
Love Promise Stories from Ocean Subaru of Fullerton
Subaru and Ocean Subaru of Fullerton believe in making a positive impact on the communities in which we live and work. We uphold that belief through our Love Promise Community Commitment. Every month, we select inspiring stories from customers and partners from around our area who strive to support our collective commitment and feature them here
Ocean Subaru Family - Abby S
After a purchase you may hear our Sales Associates say " Welcome to the Ocean Subaru Family". Miss Ana and her family are a perfect example of a Subaru Family! Miss Ana and her husband Rigoberto went on their first date back on May 5th of 2017. Love at first Subaru considering her husband drove a 2016 WRX. As their love grew, so did their family, they adopted a pup and name him SUBI. Soon after, their son was born. They decided to purchase a family vehicle that would also be great on gas and comfortable for family road trips. Being Subaru family already, the Subaru Ascent was just the right fit. Going around L.A. County Subaru retailers, they finally found the Ascent with us. May 5th 2022, on their first date anniversary, they purchased the Ascent they have been searching for. Thank you Ana for sharing your story with us and thank you for being a part of our Ocean Subaru Family!
---
Women's Club of Fullerton - Ocean S
For the past few years Ocean Subaru of Fullerton has partnered up with The Women's Club Of Fullerton. A local non-profit organization. They are not only very much involved in the community, but they provide donations to many in need. Ocean Subaru has been able to provide annual donations thanks to our Ocean Subaru Family and Valued Customers. We would not be able to Share the Love without their help! Thank you Ladies!!
---
Ocean Subaru Tees Up Support for Patriots & Paws - Penny L
Patriots & Paws celebrated its 10th Anniversary – helping over 9,400 Veterans, Active Duty and Reservists by providing $7 million of home goods and furnishing; reducing psychological and financial stress to Veterans as they transition into civilian life and Active Duty and aiding Reservists as they return from deployment by providing basic home furnishings and necessities at no cost. Ocean Subaru of Fullerton continues to support Patriots & Paws in its mission to aid in funding efforts that impact 1153 Veterans, Active Duty, and Reservists to-date.
---
Spoof Dawg Rescue - Ocean Subaru F
Spoof is a local non-profit organization that provides pet food and supplies for animal rescues in need. We along with the Women's Club of Fullerton, were able to donate food, and other pet supplies for the animals in need.
---
Ocean Subaru Loves the Earth on Arbor Day - Megan M
Ocean Subaru of Fullerton Associates celebrated Arbor Day on April 16, 2022 in conjunction with The City of Fullerton and its partners, West Coast Arborists, Southern California Edison and California State University, Fullerton. The Ocean Subaru team supported the efforts at Adlena Park helping the City take care of over 40,000 inventoried trees. Little known fact, Fullerton was the first city in Orange County to receive the "Tree City USA" designation and among the first of six cities in California to receive such designation state-wide. Tree City USA is a national recognition program for sound urban forest management practices, sponsored by the Arbor Day Foundation in partnership with the U.S. Forest Service and National Association of State Foresters.
---
Love Promise Donations Benefit Crittenton Services - Bev B
"The Women's Club of Fullerton; President Mary Torres, and member Michael Manchester, had the pleasure of meeting with the Director of Crittenton Services, Bev Berryman. Our presentation and donation took place on March 22nd, 2022, at Ocean Subaru of Fullerton, alongside General Manager Glenn Moya and Love Promise Champion Abby Santillan. Items donated support the Stepping Stone Program. One of the many programs sponsored by Crittenton which offers young adults from ages 18-24 the ability to become independent by helping with such items as: blankets, pillows, towels, sheets, flatware, dishes, and pots and pans to eventually help establish their own home. Included in this donation were gift cards to Target and Wal-Mart worth a combined total of $1000. Along a check donation - a total of $3000.00 was presented to Crittenton from Women's Club of Fullerton and Ocean Subaru of Fullerton. Director Bev Berryman was grateful on behalf of Crittenton to accept the donations. Not only do the donations help young adults but they also work with single moms in need, refugees and those in foster care system. Thank you to the Women's Club of Fullerton for helping us work with our community and their continued support."
---
Helping JOYA Scholars Students - Joanie R
Ocean Subaru and The Woman's Club of Fullerton (WCOF) presented Joya Scholars, Executive Director, Christian Esteban a check for $1,300. The donation will provide snacks and cases of water for students enrolled in the after school program at Maple Elementary School. Leveled readers for the students will also be purchased and High school seniors enrolled in their College Apps Academy will receive weekly lunches. JOYA Scholars mission is to inspire and prepare students from families of low-income communities in Fullerton to succeed through higher education. Executive Director, Christian Esteban sent his sincere thanks to Ocean Subaru and WCOF for their continued generosity and support to JOYA Scholars and their students. "Thank you for ensuring our students have the resources they need to succeed in high school, graduate from college, build a path to a fulfilling career, and much more."
---
Subaru Loves Pets – [PetEmber Animal Rescue] - Angel H
Theresa is a 10 years old Chihuahua rescue with a pretty interesting story and a long battle that she had to fight until she finally found her forever home at the Subaru national make a dog's day event that took place on October 22, 2021. Theresa was rescued by PetEmber Animal Rescue from the county of San Bernardino. She was dumped by someone on Cajon Boulevard and she was left under danger as she is a partially blind dog. While a volunteer was driving through Cajon Boulevard and a junction with another street, Theresa was stuck in the middle of the road in front of a stoplight in the junction. She was bleeding and she could not move. She seemed to be extremely scared. Our volunteer stopped his car and pointed to other cars on the road to stop until he managed to catch her with a towel around. Theresa tried to bite our volunteer as she was in a lot of pain, bleeding, and extremely scared. When our volunteer put her in his car, she tried to hide herself under one of the car seats and when our volunteer went back home, he saw the blood under the seat and it took him a while until he could grab her again and put her in a crate. Immediately, the volunteer informed the leads of PetEmber about the situation and another volunteer was assigned to come and take her to a veterinarian in order to check the reasons why she is bleeding. Fortunately, the reasons for bleeding were found to be various cuts around her neck without any fractures. Immediately, she was operated, stitched, and saved. The veterinarian has mentioned that Theresa is partially blind, her back legs were so weak, and she needs training in order to gain power in her back legs again. During her stay at PetEmber, all the health issues were addressed and she was healed from all the issues she had except the blindness that she had when she was rescued. She became up to date on all her vaccines and she became ready for a forever home. When Theresa was rescued, she preferred to stay alone at her foster's house as she was scared of other dogs. Theresa had some trust issues but little by little, she started to open up and she started to allow people to touch her and hold her. After staying at the rescue for more than a year and a lot of trials to get her adopted, it was extremely hard for her to find a home as she was old and blind. On October 22, 2021, Theresa was given a golden opportunity by the Ocean Subaru of Fullerton with more exposure to be seen aided by the waived adoption fees at the Subaru national make a dog's day event. These factors have helped her get adopted to a wonderful family. The family who adopted her commented "After adopting Theresa, our family is now complete. We have learned to appreciate the little help someone can give to an animal in need. We are thankful to everyone who helped rescue Theresa and to the Ocean Subaru of Fullerton who made it possible for us to adopt Theresa through their well-organized event". On behalf of PetEmber Staff, thank you so much for helping Theresa get adopted along with helping other 21 animals find their forever home at your Ocean Subaru of Fullerton event.
---
WCOF supports YMCA Active Older Adult Program - Mary T
The Woman's Club of Fullerton presents a check for $1,000 to the YMCA of Orange County, California. The Fullerton YMCA serves over 3,000 older adults. Funds donated were be used to purchase equipment such as dumbbells, chairs, bands, balls, and aqua dumbbells for their Active Older Adults. The equipment will serve the purpose of keeping their senior clients healthy. Throughout the pandemic, the YMCA of Orange County has remained open, serving Orange County communities by providing:-13,118 members the chance to keep active and stay healthy through our outdoor fitness or virtual classes.-Personal phone calls to 5,400 senior members by staff to remind them that they are not alone, and they were missed, Rikki Bains, Executive Director at the Fullerton Family & Yorba Linda/Placentia YMCA, wrote: "Thank you for the community funding award. As we all know, 2020 proved to be a very trying year for the entire nation, and here at the YMCA we are looking forward to a new year filled with HOPE. The YMCA board, staff, members, and participants feel this new sense of hope because of donors like you that continue to give generously, supporting others and making their local community a better place, even through this unprecedented time. Momentum may not always be on our side, but when the stakes are high and the issues are too important, we must move forward. By rallying together, we have the strength to survive and even thrive during difficult times. While this organization has taken a substantial financial loss, we have gained much more. We are more confident than ever that the YMCA of Orange County is well prepared for whatever the future brings. Thank you Ocean Subaru of Fullerton and Woman's Club of Fullerton for your generosity and support! Thank you for giving us hope and allowing us to provide hope to others."
---
WCOF supports HIS OC Homeshare Program - Joanie R
The Woman's Club of Fullerton, along with the partnership from Ocean Subaru of Fullerton, supported HIS (Homeless Intervention Services) OC for their Homeshare Program, which helps students overcome homelessness and achieve independence. They provide care by meeting the unique needs of the homeless and impoverished individuals, students, and families. HomeShare OC screens and matches eligible college students and senior homeowners. The students attend Cal State Fullerton and Fullerton College, and are people who have lost housing and are lacking funds. Seniors living in North Orange County will benefit from help in the home, financial stability, and companionship. This brings together an older homeowner who will lives in the comfort of their home with a compatible college student who would lend a hand in return for affordable rent. This program helps college students find affordable housing in our community while assisting seniors to stay in their own homes, which benefits both the students and the seniors. Both populations have been underserved and have trouble with food security and affordable housing. HIS-OC is addressing this issue by creating the next generation of roommates. The goal for 2021 is to match 12 students with 12 seniors. Carrie Buck, Executive Director of HIS OC wrote: "Thank you so much for your generous donation. You are truly making a difference in the lives of homeless men, women, and children in Orange County. Your commitment to fighting against homelessness, hunger, addiction, and injustice inspires me, and I marvel at the selflessness and sacrificial giving that I see every single day in the people who make what we do possible. Because of your generosity, we were able to move children and young adults off the streets and into a warm, safe bed. When homeless families and individuals come to Homeless Intervention Services of Orange County, they get more than hot meals and a place to sleep. They also receive compassion, respect, and hope for a second chance. "Thank you, Ocean Subaru, for partnering with the Woman's Club of Fullerton to give back to this wonderful organization.
---